"GRITLIFE" - THE WHO, WHAT & WHY
Defying the Social Norm!! An Empowerment For Women Of The New Generation!
In a sport traditionally dominated by men, Jackie Buntan is one of a growing crop of women earning their stripes within the burgeoning Southern California Muay Thai community.
"I always hear, She's pretty good for a girl"
At a mere 20 years old, Buntan has emerged as a fighter to watch. Training out of Boxing Works in Torrance, CA since age 11, the amateur super bantamweight already has 16 bouts under her belt. With a record of thirteen wins, and three losses, she is no doubt a force to be reckoned with.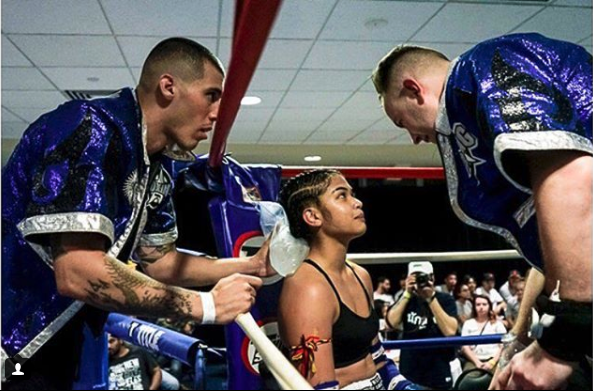 I feel no pain, I must go on and finish it!
As with every design, symbolism plays a vital role in representing each individual fighter. For Buntan, the inspiration directly pulls from her Filipino roots, and the summoning of pure power and strength.
Starting outwards and moving in, the eight sunbeams are a direct reference to the national flag of the Philippines, and its eight provinces. Peering inward from there is the image of a rising sun centered on a blossoming lotus flower which fast-becomes the focal point of the design representing purity in its greatest form. Within the sun, are two tigers facing one another in the traditional Thai symbol of strength and power – sak yant. At the heart of it all lies the star, paying homage to Boxing Works, the gym she has been loyal to since the onset of her training in the sport.And finally the typography: GritLife—a stark reminder to persevere from hardship above all.
Written by: Jumana Bississo IG: Joujou55